How Flowers Impact Our Well-Being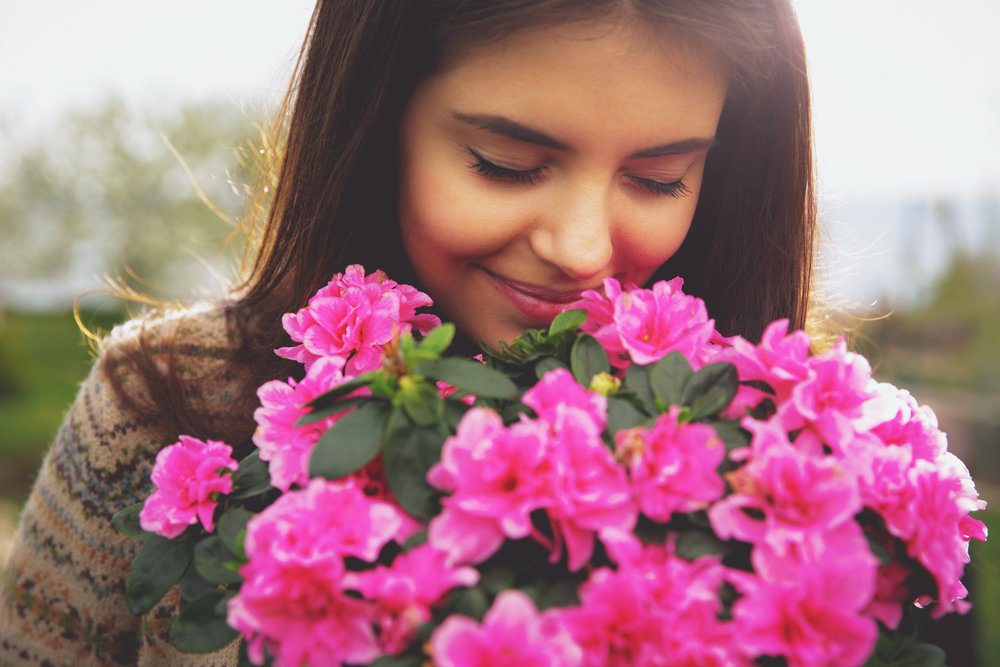 I love flowers. Their beauty and aroma, along with the endless combinations of blooms and ways to arrange them, are so?compelling and attractive to me. It's hard not to be in a good mood when I'm surrounded by flowers.This love of blooms and blossoms?has been with me for a long time.?In fact, I make sure to keep fresh floral arrangements?in my office around?to keep the positive vibes going.??As it turns out, scientific research has proven that?flowers not only make us happier, but they can even help improve memory as well as?decrease depression and anxiety! I thought it would be interesting to look into the research behind the impact that flowers can have upon our well-being, and the results were fascinating.
Flowers Improve Mood and Memory
Think back to a time when you received a flower from someone. Or strolled past a lovely arrangement sitting in the office. Or encountered a blooming garden bursting with color and filling the air with pleasant smells.?Even if you didn't realize it at the time, chances are you felt at least a little more positive. An involuntary smile may have even crept onto your face. Unsurprisingly, research shows that flowers have immediate and long-term positive effects on emotional reactions, mood, social behaviors and even memory for both males and females.
In one particular study, researchers?found that elderly people especially benefited from receiving flowers. Over a period of weeks, researchers presented bouquets?to seniors living in retirement facilities and nursing homes, and had them record their daily thoughts. The results showed that not only did the blooms?have a positive impact on their mood but they had also improved episodic memory!
What's amazing about this is that researchers can't really explain?why flowers have such a profound emotional impact upon us. It could be a biological response related to the chemicals that flowers emit through their aromas. Or it could be a learned behavior that we've acquired, associating flowers with the sentiment of gift-giving. Researchers aren't really sure the exact reason why. But they did note the unique effect that flowers have upon people:
"In many years of studying emotions, we have never received hugs and kisses, thank you notes or photographs, not even for candy, doughnuts, decorated shirts or hats, gift certificates, or direct monetary payment; the flowers are different."
Flowers Improve Productivity
The ability to learn, work and be productive is directly affected by our surrounding environments. So if employers and businesses wanted to figure out how to increase productivity and creativity, they should probably look to flowers. A study?done at Texas A&M University found that when workers are surrounded by plants and other flowering buds, their problem solving skills, creativity and ability to come up with new ideas soared.?Men in particular came up with 15% more ideas that normal, while females created more innovative solutions. Knowing this, it might be worthwhile to bring fresh flowers into your own workspace!
Make Them?a Part of Your Daily Life
Maybe it is time to stop thinking about flowers only as a gift or for special occasion, but rather part of a regular healthy and happy lifestyle. I belong to Strand of Style's Petal Club?and get a beautiful floral arrangement delivered every month. It puts a smile on my face and a little extra pep in my step every time one is delivered. I highly recommend keeping floral arrangements nearby, whether it be in your workspace, in your bedroom, or in the living room to reap the benefits of a positive mood, enhanced creativity, and even improved memory!