Spring Rejuvenation Special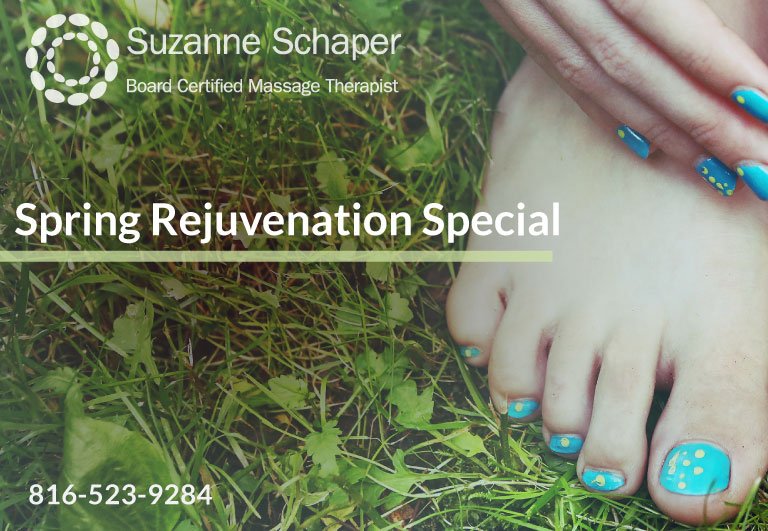 Your hands and feet are perhaps the most unappreciated parts of your body. They make everything you do possible. Your hands work tirelessly, carrying shopping bags, typing and texting, and gripping the steering wheel during rush hour. Your feet carry you through the busyness of daily life, supporting the weight of your entire body. Your hands, feet, fingers, and toes take a beating all day long. Don't they deserve a little love?
Spring Rejuvenation Details
LENGTH 60 Minutes
WHEN Available the Full Month of April
COST $75 (a $90 value)
APPOINTMENT Click Here
Spring Rejuvenation Special: What's Included
Your session is designed to bring true relief to your much-deserving hands and feet! I will rejuvenate your tired, achy extremities for full-body bliss. It a full hour of gentle soothing on your hands and feet, reflexology to work out pain points, a paraffin dip, hot towel treatment and aromatherapy.
You'll?first dip your hands in lavender paraffin wax to restore and nourish?the skin on your hands. While the wax dries, the arches, heels, toes, and tops of your feet will get special attention. You'll select an?essential oil?(lavender for soothing, peppermint for rejuvenation, or?rose hip to restore your skin) which I will work into your aching foot muscles. You'll ?then receive a hot towel treatment on your feet as I apply the same techniques to your palms, fingers, and tops of your hands.
The combination of reflexology, aromatherapy, and paraffin wax will leave your skin feeling soft and smooth, and your muscles totally revived.?By focusing solely on these two areas, you'll experience heavenly relaxation from your fingers all the way down to your toes.
Put Up Your Feet (and Hands)!
Let me wait on you hand and foot with the Spring Rejuvenation Special. Give your overworked hands and feet the TLC they deserve and schedule your session today!