Kansas City Corporate Chair Massage: 4 Things You Need to Know (Get a Free Gift Thru July 31!)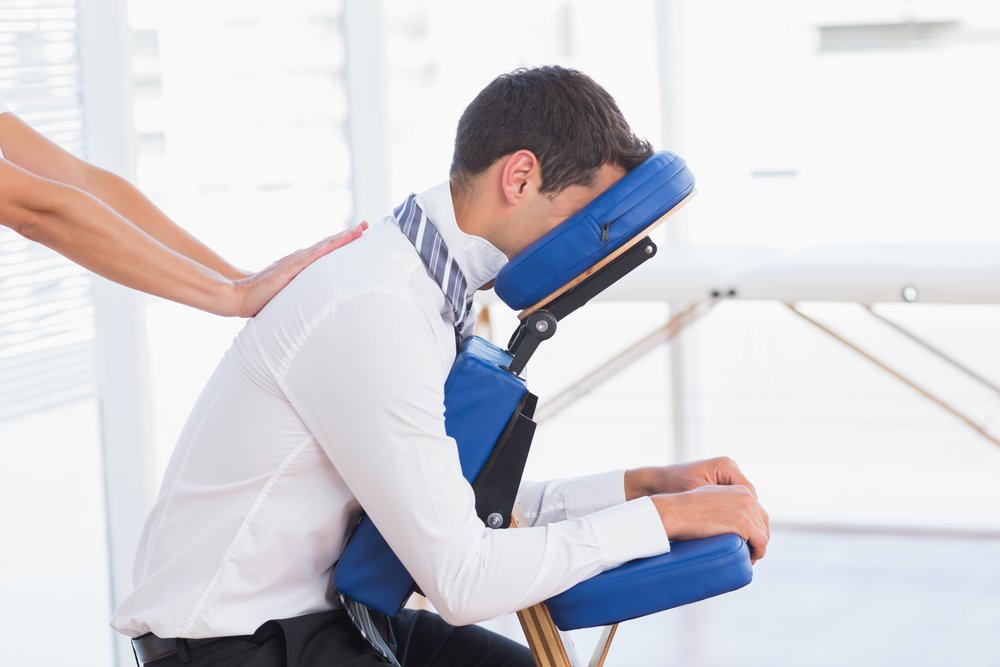 Companies all over Kansas City love hiring food trucks and mobile coffee bars as special treats for their employees. Who doesn't love a taco truck in the office parking lot? Corporate chair massage is the exact same concept!
When you hire a professional massage therapist for a few hours of chair massage in the office, the stress relief and relaxation come to you wherever you and your employees may be. Here are a few things you should know about the corporate chair massage experience.
#1. It may spark big ideas
The relaxation that massage provides might be just what working brains need to spark big ideas for your company. Letting go?even for a 15 minute, in-office session? clears your head of negativity, distraction, and the frantic nature of daily office life. When your brain and your body are relaxed, you and your team can take a step back and allow your creativity to flourish.
#2. Sessions are short but effective
Corporate chair massage sessions are quick: they can last between 10-20 minutes, depending on your needs. 20 minutes per person means that as many of your employees as possible can experience the many stress-busting benefits of massage. And just because the session is short doesn't mean it can't have amazing results.
Just 20 minutes of massage will reduce your back pain from sitting all day, will alleviate the tension in your fingers and forearms from typing away at your keyboard, and melt away any stress you might be experiencing. Did we mention that corporate chair massage is a fully clothed experience? No need to remove anything?not even your shoes!
#3. Sessions are customized
You might think that squeezing in dozens of 20 minute massage sessions on a work day would mean a cookie-cutter experience for everyone. On the contrary! My corporate chair massage sessions are customized to meet the needs of every individual who sits down in that chair. One person might be struggling with lower back pain. Another person might be suffering from tension headaches. Each of their concerns can be addressed during their individual sessions.
#4. Your employees will feel appreciated
Want to show your employees you care about them? That you appreciate all of their hard work? Offering massage in the office conveys that you care about their physical health and wellness. Giving your team the opportunity to relax, de-stress, and find peace amidst the chaos sends a powerful message that their health matters and that you also want to reward them for all that hustle.
Why Hire Me?
Clients that are interested in my corporate massage services often ask why they should hire me and what makes my service stand out over other providers. My experience and professionalism is what makes the difference with my corporate massage service. I have been providing corporate chair massage for over 12 years now and continuously tweak my processes to make it easier on the coordinator of the event and a better experience for all the participants. If the event requires more than one therapist, the team of therapists I call upon are trusted colleagues with the same work ethic and experience.
What We Do Well
Provide an efficient online scheduling option
Show up on time in proper attire with enthusiasm, ready to work
Customize each participant's session
Do what we can to accommodate any special requests
Massage! We love what we do and it shows
I have heard stories over the years from clients about chair massage experiences that were disappointing. From a therapist that talked on the phone while he massaged with the other hand to a therapist that showed up with her children tagging along, there are some crazy stories out there. I take great pride in the service I provide and do my best to deliver a corporate chair massage event that will impress you and the other participants.
Tips if you hire another provider
Go with a local provider. National companies will often give you a bid and then try to hire any massage therapist available to provide the massage sessions.
Ask your contact person if their massage therapists are experienced in chair massage and properly licensed.
If you do not get the service you expected in anyway, contact the company so they can take care of the problem.
Schedule a corporate chair massage session, get a free gift!
There's no better time than now to book a corporate chair massage session for your office! Through July 31, schedule a corporate chair massage day for your business and every person who participates will receive a personal bottle of organic scented oil. These oils are great for keeping at your desk and to use any time your need a boost during that mid-day slump or need to relax during a moment of stress.
Reward your employees and take the time to relax with a corporate chair massage session at your office.