Post-Summer Face Health: 6 Ways to Get Glowing Without Surgery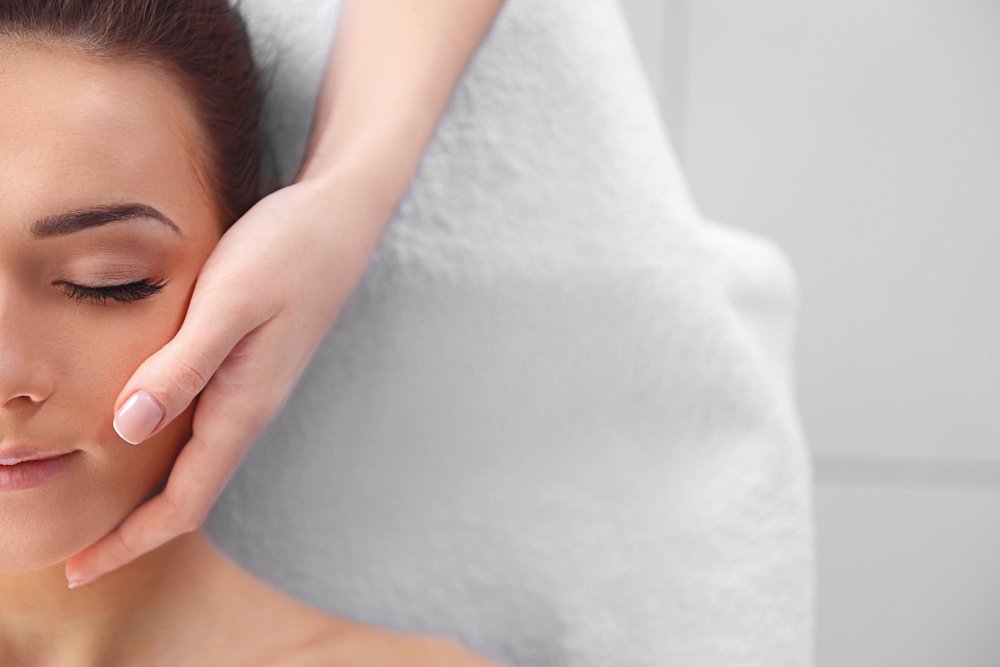 During the the month of September, I?m offering a FACE LIFT MASSAGE PACKAGE ($280) to help give your sun-kissed face a much-needed boost! And because face lift massage is most effective with multiple sessions, I?m offering five, 1-hour Face Lift Massage Sessions for the price of four. Offer expires Sept. 30, 2017.
---
Now that you have spent all summer enjoying the sun and wind while at the pool and lake, it?s time to take care of your face. Even if you were religious about using sunscreen, hats, and sunglasses, summer activities can still take a toll on your skin.
Your skin is the largest organ your body has and it bears a heavy weight of protecting everything. Nowhere is this more evident than on your face. With the summer months waning, it?s the perfect time to rejuvenate your skin and improve your face health?naturally, of course. Here are a few of my tried-and-true tips for keeping your face healthy, taut, and dewy after a long season of summertime fun. Read on!
#1. Hydrate
Our bodies are over 55% water so it?s crucial that we stay hydrated in order for it to function properly! Staying hydrated throughout the day is my #1 hack for healthier, more luminescent skin. Add lemon for an extra boost of flavor, and you?ll also kick your metabolism into overdrive.
#2. Use Sunscreen During the Colder Months
Just because the days are getting shorter and the weather is cooling down doesn?t mean that we should stop protecting our skin from the sun! Continue wearing sunscreen in the fall and winter to continue preserving your skin from UV rays. If regular sunscreen irritates your skin, there are natural alternatives that you can try out.
#3. Try Facial Exercises
Exercising the entire body helps keep the neck and face toned, but exercises specifically for the facial muscles are wildly effective, too!
Think about it: your face is made up of numerous muscles that are responsible for helping you express emotion, even when you don?t realize it. You?re using your facial muscles all day long. When you perform facial exercises (or face yoga, as some people are calling it), you?re not only delivering much needed circulation to these exhausted areas of your face, but you?re also stimulating the production of collagen and elastin in your skin, two necessary ingredients for a tighter, more toned skin.
If you need motivation to do facial exercises, do the "sag check". While looking in the mirror, bend your neck (without hurting yourself) so that your head is horizontal. Look at your face to see how much the tissue moves due to gravity. The more you exercise your face, the less it will move.
#4. Cleanse and Moisturize
Every morning and evening, I make sure to properly cleanse and moisturize my face. There are many natural options devoid of fragrances and chemicals that will naturally clean your face and keep it moisturized. Try different ones out to see how your skin reacts. What works for my skin is to clean my face with honey, avocado or banana and then put on a light layer of jojoba oil, making sure to massage my face with the oil.
#5. Eat Skin-Friendly Fruits and Veggies
I?m a huge advocate of the phrase, ?you are what you eat?! There are definitely plenty of things you can eat that will benefit the health of your skin including avocado, apple and pumpkin?just in time for fall!
#6. Get a Face Lift Massage
Yes, face lift massage is real! Similar to facial exercises, face lift massage keeps tension from building in the face. With repeated sessions, it helps ease the appearance of wrinkles, relieves sinus congestion and jaw pain, and improves circulation, creating a brighter and fresher appearance. It?s a face lift without the surgery…and it's just what your face needs after a busy summer.
---