Head Massage for Hair Growth, Scalp Health & Stress Relief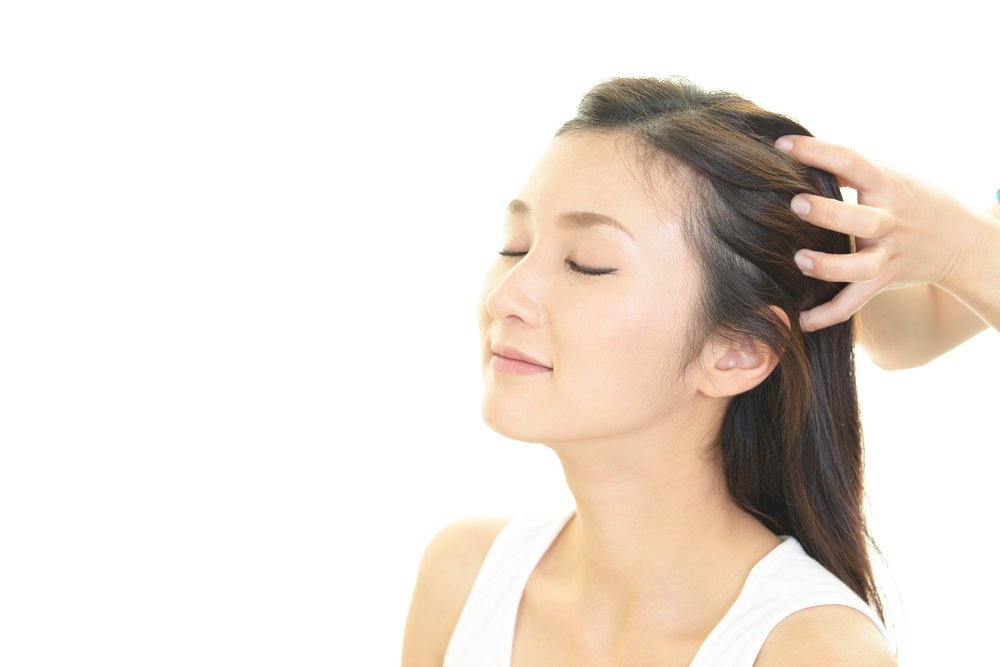 It?s undeniable how glorious a head massage feels. I?m not the only one whose favorite part of a hair cut is when the stylist massages my head while washing my hair! It?s like every care in the world melts away while you drift off into a state of bliss. It?s impossible not to feel happier and more relaxed after a good head massage! But why does head massage feel so darn good? And can it actually improve the health of your scalp? Let?s explore the benefits of head massage for hair growth, scalp health, and stress relief?as if you needed any more reasons to ask someone to give you a head massage.
Head Massage?Improves Scalp Health
People have been claiming for years that regular scalp massages will help your hair grow longer faster. But is this true? Well, we know one thing for sure: a scalp massage will improve the health of your scalp overall, which can lead to healthier, stronger hair.
Like any massage, head massage improves blood flow. This boosted circulation improves the health of your scalp by removing dead or flaky skin and creating an ideal environment for your hair follicles to receive the vital nutrients they need to grow properly. Improved blood flow allows the nutrients in your blood (namely oxygen, proteins, and amino and fatty acids) to reach their intended destinations; in this case, the roots of your hair. While there is no scientific proof that massage will make your hair grow faster, it definitely gives your hair the ideal conditions in which to thrive.
I would also recommend head massage to reinvigorate your scalp if you have dandruff, psoriasis, and itchy scalp. Adding moisturizing oils like coconut oil (an ancient Eastern Indian trick that is tried-and-true for a reason) or eucalyptus essential oils to the massage will also allow your dry, flaky skin to heal.
Head Massage Alleviates?Stress & Migraines
I could tell you that head massage boosts levels of the happy-mood chemical serotonin (which it does) or that it slows your heart rate and reduces your blood pressure to provide stress and headache relief (it does that, too).
As a massage therapist, I ultimately believe that it is the healing power of human touch that ultimately makes a head massage the overwhelmingly relaxing and pain relieving experience that it is. By using my energy and expert touch, I can use the therapeutic power of massage therapy to allow you to relax and heal.
Head Massage Tips
Here are a few ways you can make the most of a head massage, whether you?re on your own or seeing a massage therapist.
Massage your head while washing your hair to stimulate the growth of hair follicles.
Apply gentle pressure?to your temples and pressure points on your forehead. CranioSacral therapy can also come into play here if you're seeing a therapist.
Use gentle, circular motions to work from the front of the head to the back.
Use all your fingers to apply consistent pressure
Watch out for hair tangling. This will happen if you?re not careful.
Be wary of sensitive areas like the neck, lymph nodes and temples. Do not apply too much pressure to these areas.
When you find a tender spot on your head, hold medium pressure until the soreness dissolves.
Take deep breaths while you massage to really get the oxygen flowing throughout your body and to heighten that feeling of relaxation.
After a head massage, it's important to drink water like with any massage.
Closing Thoughts on Head Massage
Need anymore reasons to give your head a massage right this moment? Or better yet, schedule a massage session with your therapist. If you?re feeling particularly stressed or suffering from headaches, your massage therapist can provide you with the right techniques during your massage to truly give you the experience and healing you need.