How Chair Massage Can Boost Employee Productivity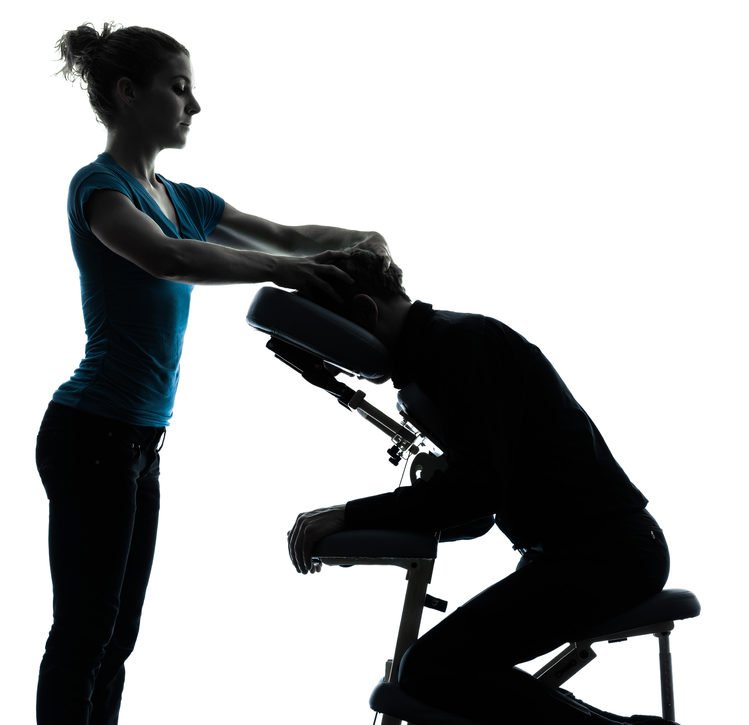 Want happier, more productive employees? Then chair massage just might be the answer. Chair massage is a special way to not only reward your employees for their hard work but to help ease any stress they may be experiencing. And who doesn?t want a more relaxed and satisfied work force? I?ve laid out everything you need to know about chair massage for your employees.
What is Chair Massage?
Chair massage is a convenient way to offer short, targeted massage sessions to clients in a variety of settings such as offices, schools or airports. People are often surprised at how effective 15 or 20 minutes of chair massage can be for tension relief and happier moods!
The massage chair allows you to sit comfortably and fully clothed while you receive massage to the head, neck, back, and arms. Since each session is customized to address your particular complaints, one client may receive mainly arm and hand massage, and the next person might only receive neck work. A quiet, dark room with soft music works best in creating a relaxing environment for the massages and assist you with "letting go" during the session.
The Benefits of Chair Massage
Studies have shown that chair massage can increase office productivity while decreasing symptoms of stress and anxiety. Chair massage offers many benefits including relief from muscle tension, stress and anxiety.
A massage targeting the neck, shoulders, arms, and hands can help you avoid repetitive strain injuries such as carpal tunnel syndrome. Sometimes when I work on a client's forearms during a session, for example, they are amazed at the tension residing there which is a result of constant typing or texting. Because of the convenience and ease of setting up the specialized massage chairs in almost any area, chair massage is a great way for employees to relax and release any stress that may result from their work.
How Often Should You Offer Chair Massage?
How often you should offer massage to your employees depends on your goals as a company. Some companies schedule massage events a few times a year as a thank you or reward for accomplishments or as part of a health fair. Other companies are looking to improve health and morale in an effort to boost productivity, so they schedule massage sessions more often. Sometimes the company covers all the cost and sometimes employees pay for all or part of the cost. All the details of your massage event are flexible and can be tailored to meet your needs.
How Much Will a Chair Massage Session Cost?
These sessions are?normally priced on a per hour basis and varies from one provider to another. This can range anywhere from $60 to $100 per hour. Most providers have a minimum number of hours and might have a travel and setup fee. Expect to pay a little more for experienced therapists or for extras such as aromatherapy or table massage, which is still effective when clients are fully clothed.
It can be worth paying a little more for licensed, experienced, punctual, and effective massage therapists, so shop around before scheduling with any particular company. Service providers should be happy to answer any questions you have regarding licensing, board certification or experience, so don't be afraid to ask!
---
I have many years of experience providing chair massage for Overland Park businesses and their employees. I can tell you first-hand how an afternoon of massage can make a world of difference for employees. I?d be happy to answer any questions you may have regarding chair massage sessions for your employees. Contact me today?to learn more!