4 Reasons Why Winter is the Best Time to Get a Massage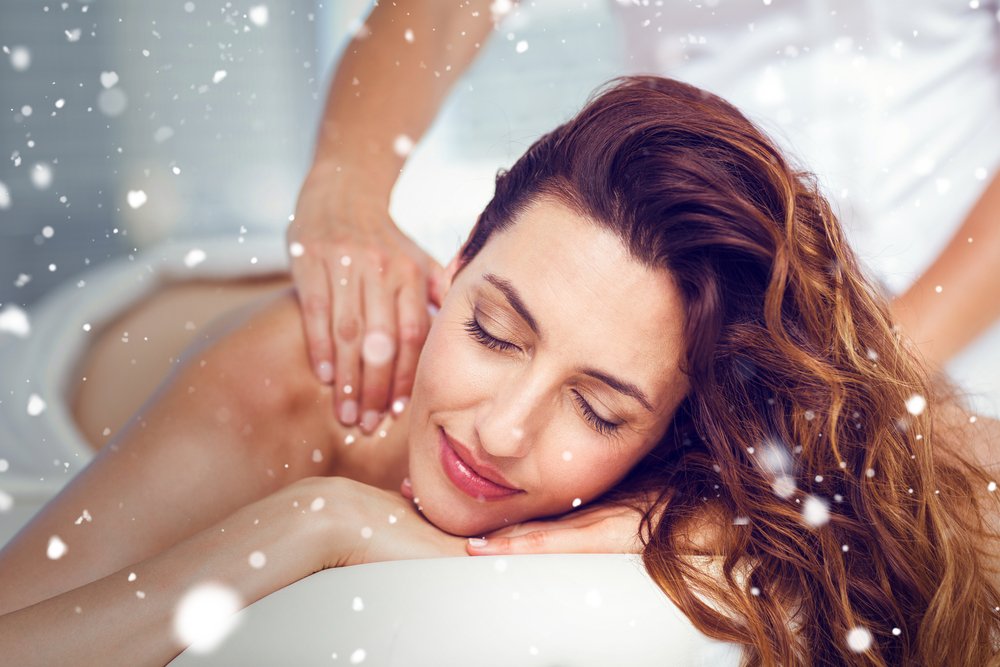 I have clients that schedule more massage sessions with me during the winter and sometimes they are not sure why. I think this is a fascinating phenomenon and there are a combination of reasons why people seek out the comfort and relief of massages more often during the colder winter months than during spring and summer.
I have four, hard-to-dispute reasons why winter just so happens to be the best time to get a massage. Read on!
1. You Get SAD During the Winter
If you?ve ever noticed that you start to feel bummed out as the seasons turn from warm to cold, just know that you?re not crazy. Seasonal Affective Disorder (SAD) is a real thing and it can cause anyone to feel the effects of the winter blues as the nights get longer, the days get shorter and the weather gets crummy.
SAD is a type of depression that occurs most during the winter due to lack of sunlight, frigid temperatures and gloomy weather. You might have SAD if you tend to be moodier, experience low energy levels, are easily irritated, keep oversleeping and even see some weight gain.
Since a cruise spent sailing around the Caribbean from December to April is out of the question for most of us (good for you if you can!), a single massage session can work wonders on your winter blues. Getting a massage during acute SAD periods can increase hormones like serotonin and dopamine while decreasing cortisol, helping you to feel more relaxed and happy. You?ll find that your mood will instantly brighten after a nice, long massage session on a heated table beneath a cozy sheet. Afterwards, you?ll head out into the cold stronger and more resilient than ever before.
2. Colder Weather Causes Muscle Tension
Have you ever been outside in the cold for a sports event, like a KC Chiefs game? When you get home and your body warms up, you may notice that your neck, shoulders and even your glutes are sore. In cold conditions, the body tenses up in defense and if you are exposed for a long period of time, that muscle tension can remain long after you are back in a warmer environment.
Regular massage therapy during the colder months is a great way to combat the tension you may pick up during this time.
3. Upcoming Holidays Cause Stress and Anxiety
Most of us love the holidays, but they can bring extra stress and anxiety due to the busy-ness of the season. With holiday events and parties, decorating, buying gifts, baking and sending out our beloved Christmas cards, our lives can become very busy very quickly and it can be difficult to fit in the down time needed to stay relaxed and refreshed for all those parties. We go from Halloween to Thanksgiving to Christmas and right into New Years Day? four major holidays in just 9 weeks. This creates a lot of activity and planning that can cause our stress and anxiety to build.
Regular massage sessions during this busy season is a great way to keep your stress levels low so you can really enjoy the holidays.
4. You Can?t Get ?Grounded?
Unless you?re taking the Polar Bear Plunge, no one wants to run around barefoot in the winter. The practice of ?grounding?? directly connecting to the earth to help balance you out, decrease stress and lower blood pressure?is nearly impossible during the winter and can inhibit your ability to de-stress.
Although there are "grounding sheets? (or ?earthing mats?) that some people swear by, nothing beats the actual feeling of bare feet in warm grass. An easy cure? An hour-long massage session that will immediately warm up your body, decrease muscle tension and provide you with relaxation you might otherwise be missing out on.
What Else Can Help Alleviate Cold Weather Blues?
Massage can be greatly beneficial during the winter. I also have a few suggestions for ways you can continue to stay happy and healthy when the cold and the dark get to be too much to handle.
Eat Healthy
It is easy to slip into eating comfort food when the weather gets colder. Try to keep the sugar and processed foods to a minimum and eat a lot of fresh veggies and fruits. Tea and soups will also fill your belly with both warmth and sickness-fighting nutrients!
Exercise?
Exercise may be the first thing to go into hibernation during the winter. I get it? it?s not as tempting when you cannot walk or bike outside. It is, however, important to get regular exercise during the winter. Some gyms will allow you to get a month-to-month membership. There are also plenty of free exercise videos on YouTube for all levels of ability. This could also be the perfect chance to try out a new class?Zumba, ballroom dancing, cycling, even swimming in an indoor pool are all great options for getting daily exercise while staying indoors.
Socialize?
It can be tempting to go home and put on your warm PJs and never leave the house, but make an extra effort to be social during the colder months.?Invite friends over for a nice dinner. Go out for Happy Hour. Ask a friend to join you for one of those indoor exercise classes. Being with people you love and care about can oftentimes cure all ills.
Plan for the Warmer Months
Planning your vegetable garden or your summer vacation will give you something to look forward to when those dark days of winter seem unending.
---
Whatever the reason?whether it?s SAD-ness, increased muscle tension, holiday-induced stress or just plain winter ?meh?, getting massages on a regular basis can help you to not just ?get through? the colder months but to actually thrive in spite of them. See you on the massage table!