Special Deals for Client Appreciation Week!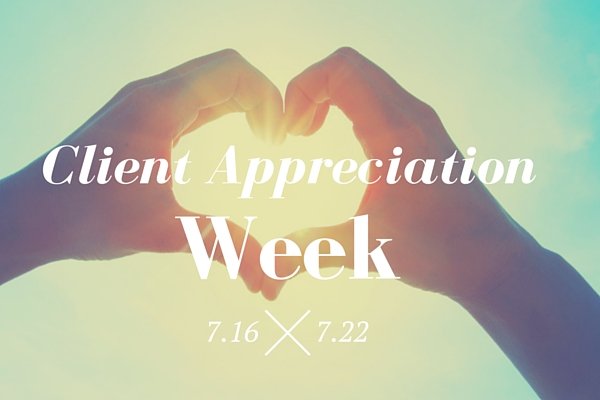 My clients are the best! In honor of how awesome you are, I am declaring Saturday, July 16th through Friday, July 22nd to be Client Appreciation Week! I truly appreciate all of my clients and want to show you how much I appreciate you with a celebration of massage. Throughout the week, I'm offering unique massage sessions at special prices. Plus, I?ll have a special gift waiting for you after your appointment! It?s my way of saying ?thank-you? for being you. Check out the many exciting specials I have going on for Client Appreciation Week.
Client Appreciation Week Specials
Here are the special sessions that I will be offering for Client Appreciation Week:
Joyful Feet – 30 min | $25
Your feet deserve a treat. This 30 minute session includes reflexology, myofascial release and massage. You will leave feeling light on your feet.
Loose-like-a-Goose Neck and Scalp? – 30 min | $25
When was the last time you had a neck and head massage? It can be a shock to realize how much tension is in the neck and head, but this massage will make your head feel lighter and your neck feel looser.
Soothe the Neck, Shoulders and Back – 45 min | $40
Sometimes we just want a good back massage and this 45 minute session fits the bill. Your back will be free of the tension and tightness that accumulates from all that yard work and summer travel.
Happy Face Massage – 60 min | $45
Everyone should try a face massage and this is the perfect opportunity. After this 60 minute session, your face will feel relaxed and refreshed for days.
Schedule Your Session Today!
Let me shower you with my appreciation! Client Appreciation Week is all about you, and I could not be more thankful to be your massage therapist and to accompany you on your journey of wellness. This is the perfect opportunity to try a new kind of massage and enjoy all the benefits of massage therapy.?
Due to the unique details of these offers, you must email, call or text me at 816.523.9284 to schedule an appointment. My online scheduler will not be available for Client Appreciation Week. Schedule your appointment today! Client Appreciation Week will be here before you know it!