What I Learned After Eating Salads for 30 Days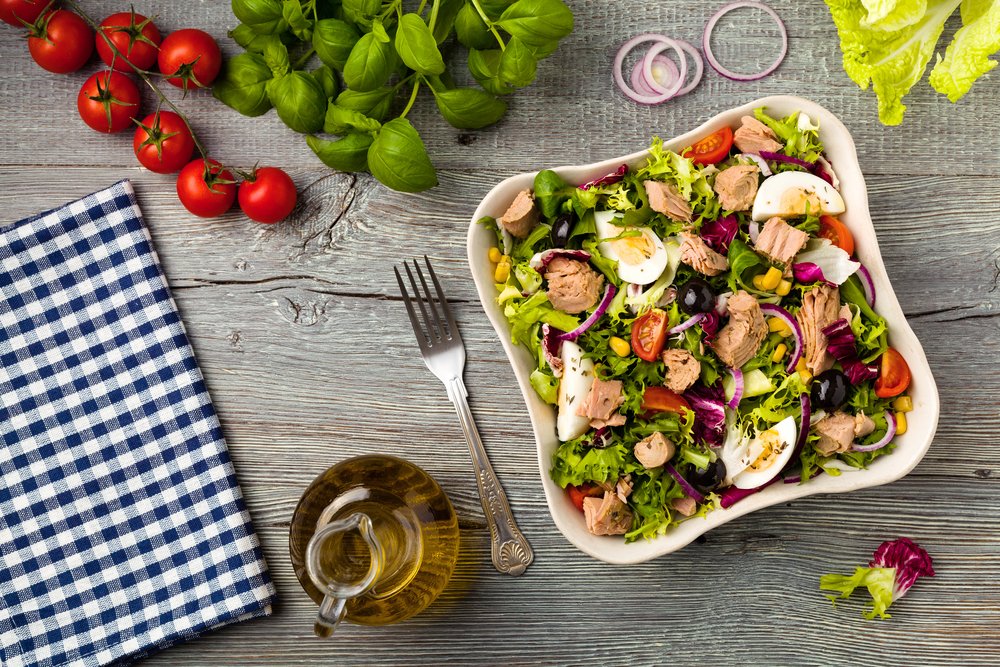 Eating healthy can be difficult, so when life gets crazy our diets and wellness are often the first thing pushed aside on our list of priorities. I am certainly guilty of this, even as a massage therapist who focuses on wellness. I knew it was time for a change in my diet, so I made a challenge for myself. My challenge was to eat 30 days of salad to see the impact it had on my body and how I felt. This is what I learned.
Why 30 Days of Salads?
I felt like wasn't consuming as many fruits and vegetables as I should. I normally eat quite healthy but there is always room for improvement. I decided to take action after reading an article that reminded how important it is to eat fresh fruits and vegetables because they can prevent disease and premature death. Studies have shown that eating more vibrantly colored raw fruits and vegetables can prevent dementia, cancer and diabetes. I want to do everything I can to live my best life and I think diet has a huge impact.
The Challenge
I knew that I could easily achieve my goal by setting an intention and only one rule. The rule was to have a salad every day, for 30 continuous days. I did not worry too much about the other meals I consumed.
What I Did
You are probably thinking that it sounds boring and my mealtimes became dull. I even thought that I would get sick of salads, but that was not the case. With so many varieties and combinations of toppings and veggies, I quickly realized that the flavor possibilities are endless. Salad for me is not just lettuce, cucumbers and tomatoes. I add as many fruits and vegetables as possible. If it was healthy, fresh, and readily available then in to my salad it went. I also got inspiration online and tried different recipes. Getting a little creative with my dressing, toppings, and veggies became a fun part of my meal time.
I'm lucky that I loved salads before I started the challenge, so eating one a day for 30 days was not overly difficult. However, I think the key was aiming for just one salad a day instead of at every meal. This allowed me to still enjoy my favorite foods without overdoing it. Its important to keep balance and start slow.
The Result
I want to enjoy the food I eat while optimizing the health benefits. I have seen how changing what, when, and how much I eat can affect the way I feel. This is exactly what happened during my 30 days of salads. Here's a summary of my results:
At every meal I felt satisfied and vibrant.
After the first week, I had more energy during the day and slept better during the night.
After the third week, I realized I was eating more than a salad a day. I learned to enjoy eating mostly raw food meals and even enjoyed them more than some cooked food.
At the end of the challenge I even lost weight.
My Tips & Tricks for Eating More Salad
After my 30-days-of-salad experience, I discovered tricks to make it easy to fit in a salad a day. If you are considering having 30 days of salads, then I recommend trying some of these strategies!
Find a Go-To Salad Bar for Quick Lunches
Whole Foods was my go-to salad bar. With a variety of organic options, it's a great spot when I am in a rush. Find a salad bar that you love and fits your budget. I promise it will be a lifesaver!
Have Purpose When You Go to Restaurants
When I eat at restaurants, I try to not look at the menu because I know what I'm there for. When I browse the menu, I am more likely to order an unhealthy option over a salad. You can customize your salad by adding items to it if you are wanting something extra.
Get Creative!
I like to get creative when I have salads at home so explore lots of different flavors and ingredients. Mixing it up with ingredients like artichoke hearts, red cabbage, sunflower seeds, and other fun combinations kept things from getting boring. I also buy my produce in bulk because it's more cost effective. I also know that I will eat it before it goes bad.
Be Careful With The Dressing
It can be tempting to drown your salad in ranch or Thousand Island dressing. Dressings like that are filled with fatty calories and chemicals that are not good for you. Opt instead for using olive oil and lemon juice or balsamic vinegar. Amino acids are also very tasty atop a fresh bed of greens. Again, this is your license to get creative!
---
My 30 Days of Salads has come to a close; however, I am happy to say this experiment was a success! I learned a lot during this challenge, especially when it comes to listening to my body. I feel better than I have in a long time and plan to continue having a salad a day. I had such a positive experience that I want to encourage you to try it too!
Would you eat a salad every day for a month? Let me know in the comments below!